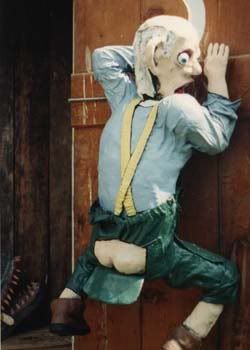 Sakjane wong tuwek iku gak oleh ugal-ugalan. Opo maneh ngajak arek cilik blajar ndugal. Wah, blaen tenan.
Mbah wakijan kuwi wes mambu lemah sakjane, tapi polahe digawe nggaya koyok bocah SMA. Clonone jean ngapret, ngetokno pupune sing karek balung thok. Karepe ben koyok arek jaman saiki, tapi malah koyok jangkrik.
Clonone sengojo digawe ngepres. Mungkin maksute ben iso ketok gandule. Maklumlah…gandule mbah wakijan pancen guuede tenan. Mungkin jaman nom-nomane biyen sering dilatih ngangkat boto, mangkane otote mrengkel-mrengkel.
Dino senen mbah wakijan ngajak putune mlaku-mlaku nang mall. Sakjane putune emoh, soale mlebu sekolah. Tapi mbah wakijan masang wajah melas, njaluk dikancani. Soale kan ra pantes, wong prejengane wes tuwek kok tolah toleh dewe.
Terus mbah wakijan nyengklak sepeda montore, langsung ngebut nggonceng putune. Nang tengah dalan, dadakno bane kempes. Mbah wakijan misuh-misuh " Jiaangkrik ! Iki ban opo lemper seh ? Digawe ngetrek sedilut wae kok wes lemes ". Padahal, sing salah duduk bane, lha wong ban wes meh sepuloh taon gak diganti, sampek tambalane ketok ndemblok sak bunderane ban kok disalahke.
Akhire yo sepedahe dititipno nang tukang tambal ban. Terus timbangane nunggoni suwe, mbah wakijan iseng-iseng ngajak putune mlebu diskotik sing ono nang cedake kunu. Bareng wes mlebu, akeh wong sing podo mendem. Soale kan nang kono dodolan beer lan tuwak sing macem-macem. Wong-wong kuwi podo pringas pringis nguwasi mbah wakijan. Mungkin pikire, iki wong tuwek kok prejengane ndugal.
Terus wong-wong kuwi nawari tuwak sing paling ampuh. Mbah wakijan kroso sungkan, terus yo melu ngombe wae. Glek…glek…glek….gang sedilut mbah wakijan mendem. Terus deweke yo melu pringas pringis, karo nawari putune melu ngombe. Putune yo he'eh wae, lha wong deweke yo ngelak banget.
Dikiro teh manis, tuwak kuwi di ombe sampek sak kal entek rong gelas. Glek...glek…glek…yo mesti wae arek cilik kuwi langsung mendem. Ndase kroso nggandol, terus deweke nggeblak nang pupune mbahe.
" Mbah…kuwi mau jane ngombe opo ? " putune takon.
" Banyu pinter le " jawab mbahe.
" Tapi ndasku kok kroso abot, mbah "
" Lha yo kuwi, berarti utekmu wes mulai mekar " jawab mbahe.
" Oh,…berarti Banyu pinter kuwi nggarai pikiranku mekar yo mbah. Aku iso luweh pinter yen ngunu " putune takon.
" Ho'oh…" jare mbahe.
" Yen aku pinter, wes ra perlu sekolah yo mbah " tembung putune.
" Glek !…ho'oh…" jawab mbahe.
" Yen ngunu, aku njaluk ngombene maneh, mbah " jaluk putune.
" Nyoh ! ,…." jawab mbahe karo nguwehno tuwak sak gendul gede.
Glek …glek…glek…tuwak sak gendul gede dientekno karo putune. Bar ngunu, arek cilik kuwi langsung mlungker.
" Hiks…mbah…." putune nyeluk.
" Opo…hiks " jawab mbahe.
" Hiiiangkrik !…" jare putune.
" Hiangkrik dewe ! " jawab mbahe.
" Ahku kok gak isoo ngadek mbah,..hiks ? " jare putune.
" Halah…hiks, aku dewe yo teler ngene " jawab mbahe.
" Aku tak turu…hiks, yo mbah " jare putune.
" Yo wes…hiks…mlungkero kunu, aku yo tak ndlosor nang kene " jawab mbahe.
" Yoi, jack…"
Terus wong loro kuwi podo nggeblak dewe-dewe.
Sampek bengi, si mbah karo putune kuwi sek mendem. Tapi berhubung wes arep tutup, terpaksa wong loro kuwi kudu metu soko bar.
Tukang tambal ban yo wes tutup. Mbah wakijan misuh-misuh " HHiiangkrik !…iki wong kok gak sabar nunggu sedilut wae. Hiks…Terus, awake dewe ki muleh numpak opo le ? " jare mbah wakijan.
" Numpaki tukang becak wae, mbah…" jare putune.
" Hayyah…tukang becak kok ditumpaki le…kowe mengko di keplak lho " jawab mbahe.
" Maksute, numpak becak ngunu loh mbah….sori, aku salah ngomong. Aku kan jek mendem, mbah..hiks " jare putune.
" Yo wes, sak karepe lambemu wae…" jawab mbahe.
Terus wong loro kuwi muleh numpak becak.
Tekan omah, arek kuwi kondo nang bapake " Pak, aku saiki wes pinter…sesuk gak perlu sekolah "
" Kowe iki gendeng opo piye le ? Teko-teko kok ngomong ngunu " jare bapake.
" Aku gak gendeng kok, pak…cuman rodo mendem " jawab anake, karo ndudokno tuwak sak botol gede sisane ngombe awan mau.
Bapake mureng-mureng. Anake langsung dijewer nang kamar, langsung dikongkong turu. Pikire, percuma ngomong karo wong mendem.
Sesuke, arek kuwi jek mlungker nang kamare. Ibune mlebu kamar, nangekno anake.
" Le…tangi, wes awan. Kowe ndang budal sekolah " jare ibuke.
" Moh…aku wes pinter. Ra perlu sekolah, mak" jawab anake.
" Kowe ki edan po nak….tak kandakno bapakmu lho " jare ibune.
" Yo kandakno…lha wong wes pinter kok jek dikongkong sekolah " jawab anake.
Terus ibune mlebu nang kamare bapake. Tapi bapake yo jek mlungker nang sandinge mejo. Botol tuwak seng digowo anake yo wes ketok kosong, di deleh nang nduwur mejo.
" Pak…tangi…anakmu gak gelem sekolah. Senenono pak " jare bojone.
" Yo senenono dewe…aku gak kuat ngadek…hiks " jawabe.
" Kowe ki piye to pak, mbok yo dikongkong sekolah ngunu lho anake " jare bojone.
" Kowe ki yo ngunu, ndasku nggliyeng ngene kok dikongkong nyeneni bocah…mooh ! " jawab seng lanang.
" Lha nggliyeng kenek opo seh pak ? " sing wedok takon.
" Aku bar ngombe Banyu sing nang botol kuwi, gawanane anakmu mau bengi…hiks " jawab seng lanang.
" Lah kuwi kan gendul wadahe tuwak, kowe mendem yo pak ? " sing wadon takon.
" Bah mendem, bah teler…jo ngomong wae to bu…hiks… " jawab seng lanang.
Terus sing wedok mureng-mureng. Bojone diseret nang kamare anake, pikire…ben anake diseneni.
Tapi pas ketemu, bapake malah ngguya-ngguyu nang anake.
" Halo nak…hiks " jarene.
" Halo pak…met pagi " jawab anake.
" Met pagi…kamu nggak sekolah ya…hiks ? " Bapake takon.
" Nggak…saya kan udah pinter " jawab anake.
" Ya kalo udah pinter ya gak usah sekolah…hiks…" jare bapake.
" Hehehe…" anake ngguyu.
Bar ngunu, bapake balik mbrangkang nang kamare dewe.
Weruh ngono kuwi, ibuke mureng-mureng. Bojone seng lagi mbrangkang diseret maneh.
" Pak..kowe kuwi edan ta ? Wong weruh anake ra gelem sekolah kok di jarke wae " jarene.
" Lha kowe ki yo gendeng buk….wong lagi podo mendeme kok di pethukno…yo maleh dadi guyon " jawab seng lanang.
Seng wedok mencak-mencak. Deweke njukuk sapu, terus di gepukno nang bokonge seng lanang. Tapi seng lanang meneng wae, karo ngguya ngguyu.
" Hiks…hiiaangkrik !…".
Terus digepuk maneh.
" Hiiangkrik !…"
Terus di jewer.
" Hiiangkrik !…"
Terus di keplak.
" Hiiangkrik !…"
Terus seng wedok kentekan akal, tapi mbalesi ukoro….
" Hiaangkrik dewe ! "
-----
Yo ngono kuwi…gara-gara mbah wakijan, sak omah dadi guyon.
Wong wes tuwek…mbok yo ojo ugal-ugalan.
Ojo ditiru….
===================